Hey Y'all!
It's Your Gyrl, Ms. Carmen aka Platinum Voice PR bringing another event to you!
Now in its 10th year, the Core DJs Worldwide is the premier coalition for DJ's, with a membership of over 500 of the nation's most influential DJ's, as well as international DJ Talent. The purpose of The Core is to empower and educate the core of the music industry, the DJs. Today, there are several other DJ coalitions and some of them were inspired by The Core DJ coalition. Core DJs are represented in almost every DJ coalition, but still hold the title as the largest DJ coalition in the world!
The Core DJs started a tradition of Core Retreats in Chicago, IL in 2005. Since then, they have produced successful Core Retreats, twice a year in several markets such as: Miami, FL (3x), St. Louis, MO; Houston, TX; Atlanta, GA (5x); Dallas, TX; New Orleans (2x), LA; Myrtle Beach, SC; and Las Vegas (2x). The last Core Retreat was in New Orleans, 2011.
In May 2012, The Core DJs changed the event name Mixshow LIVE to bring the bi-annual event back specifically to educate and help attract attention to indie artists and labels. The movement continued as  Mixshow LIVE, keeping  up with the GROWING change of the music industry by inviting radio stations and internet stations to BROADCAST LIVE from the event, creating a social networking blitz to bring attention to our sponsors, partners, artist, labels and industry tastemakers.
The Core DJs have also opened the door to other DJ organizations from around the globe to participate with their OWN events within Mixshow LIVE. Although,we no longer use the name MIXSHOW LIVE, The Core DJ's 10th Year Anniversary event will continue bringing opportunities to other organizations.  This DJ/Artist/Label extravaganza will be held, Aug 11-18, 2014 in Atlanta (Details TBA)
Also, The Core DJs Worldwide presents, for the 1st time ever, a Gospel Showcase & Sunday Brunch within its' Bi-Annual Core DJ Retreat/Conference.
With the ever-changing climate in the entertainment industry, members of The Core DJs Worldwide recognize a growing Gospel platform; showcasing talent from many walks of life, genres and markets.
The Core DJs also have also taken note of how Pop, R&B, and Classic Gospel music records intertwine. This movement is quickly catching the attention of listeners. Subsequently, DJs are more aware of implementing Gospel mix shows across the airwaves, highlighting Gospel artist, and promoting the mix of rap into Gospel lyrics. Intentional or not, as a community, we are making Gospel music a priority.
This Gospel Showcase & Sunday Brunch is the beginning of a staple The Core DJs Worldwide is proud to cultivate; and it will repeat itself in years to come!
For information on how you can take part, please contact:
OR
via the Core Hotline at 877.333.9940
LOOKING FOR SPONSORSHIP/PERFORMANCE OPPORTUNITIES AT THE CORE DJS EVENTS?
Sponsorships
877 333 9940
FOR PRESS/MEDIA
Ms Carmen
The Core Models
Alondus Anderson
@Alondus
877 333 9940 Ext 4
Hotels & Flights
Krystal Justice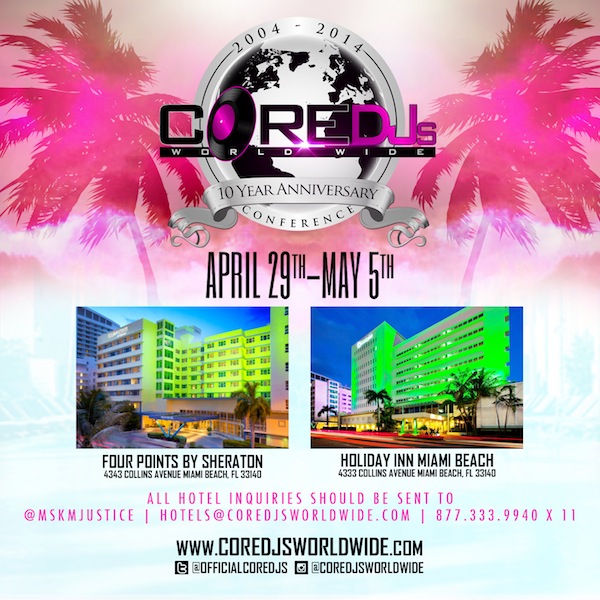 BREAK RECORDS? BREAK LABELS:
The Core DJ's Anniversar
y Title Sponsor,
THE ARTISTS
Follow her on twitter!
MAKE SURE YOU DOWNLOAD THAT CORE DJ's APP 
FOR THE PRIVATE
BOXING PARTY INVITE

SPONSORED BY WINGSTOP 
ON 

SAT, MAY 3rd

!
In Closing, You never know where I may be bringing you the events of Chicago, so make sure you follow this blog and Follow me on Twitter, @PlatinumVoicePR! If you need your name and craft to buzz out here, go to http://www.platinumvoicepr.com.  Until next time, See ya later Babies!
Disclaimer:
(PlatinumVoicePR is the source for the events and has no legal bindings with associated parties)
(Music Videos and Links are for promotional use only)